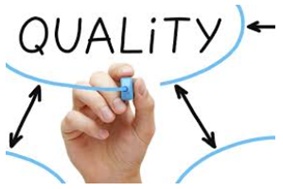 PURNA DESIGN ENGINEERS PVT. LTD. (PDE) quality programs are focused at enhancing the value created for all stakeholders: clients, partners, shareholders, employees, and vendors. Our endeavor is to make continuous improvements with demonstrable benefits in our services, products and business practices. PDE is committed to foster an environment of trust, integrity, challenge and reward and maintaining this culture throughout the organization.The processes by which PDE transacts business comply with internationally recognized quality standards, and are also flexible in meeting the varying and changing demands of its stakeholders. PDE's business philosophy and values are to build, maintain and institutionalize a culture of fairness, transparency, mutual respect, togetherness, trust and ethical behavior.By establishing & bringing into practice these policies, PDE seeks to make quality a way of life and to be known as a company that always exceeds expectations by delivering more than promised.
Quality Assurance & Control : PDE views quality as an integral part of each aspect of its day-to-day functioning and believes that quality can be best achieved by preventing errors throughout the project lifecycle. This is achieved by building an effective Quality Management System (QMS) that can generate quality outputs. PDE ensures that an independent Quality Assurance (QA) team certifies all deliverables shipped to the client as final deliverables. The QA division is responsible for the following activities:
Involvement starting from the initial stages of the project Create
Establish and maintain Process workflow
Define, monitor and track QC steps in production process
Quality assurance and certification of all deliverables.
Leverage efficient technology applied to all business processes in order to maintain a competitive advantage
Quality Management System : PDE's Quality Management System is a vibrant, integrated, process-driven, people-oriented and customer-focused. It is an integrated approach towards implementing quality practices of world-class benchmarking models, including  ISO 9001:2015. At PDE we believe in continuous and consistent improvements to achieve operational and organizational excellence. Some major highlights of this system are:
Clearly defined and institutionalized processes/procedures for project(s)' lifecycle
Detailed documentation including project specifications, scope, training manuals, work logs, roles and responsibility.
Controlled change management ,Training and retaining of staff on the project as well as process.
An independent Quality assurance and Certification group responsible for defining projects  quality objectives with clearly defined QA test plans and strategies Use of automation in the production process as well as for QA/QC, to minimize human errors, increase efficiency and standardization of processes and practices Statistical measurement of quality parameters as well as acceptance criteria Technical Support interface to ensure client satisfaction
Measuring Accuracy : Every QA test plan has an important section on Acceptance Criteria and Tolerances. These are defined based on: Client requirements (client quality standards) Project requirements (usage of the deliverables by the client). PDE's experience in similar projects, International standard/best practices. Acceptance criteria define the threshold levels acceptable for a product, services, output & deliverables. These could be descriptive or expressed as a percentage. PDE strongly recommends approval of these acceptance criteria by client before start of the project or during project initiation