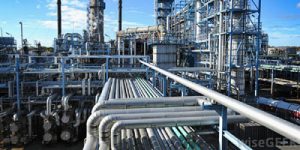 PDE provides multi-disciplined engineering services including conceptual engineering, front-end engineering, detailed engineering, piping design & engineering, structural design & analysis, instrumentation & control, electrical design, static equipment design & engineering, As-built engineering & documentation.
We bring to the table experience across oil and gas, power generation, and mining industries. We provide rapid mobilization, cost and schedule-effective multidisciplinary plant engineering solutions for the toughest of problems. Representing the interests of plant owners and engineering procurement and construction (EPC) contractors is a priority for us.
We employ state-of-the-art technologies and tools with rigorous process compliance across various industries, operators, geography specific standards, codes and regulations. Our engineers are experienced in various plant engineering projects and work in tandem with client teams, meeting project and end customer expectations.
Mechanical : Mechanical Design & Analysis for various Piping systems, Pressure Vessels, Conveyor and Package Units, Preparation of Mechanical Datasheets and Specifications, Pressure drop calculation, Line sizing, Insulation thickness, Flow analysis, Surge Analysis, Seismic qualification of piping systems,Line vibration studies, Pre_Bid assistance and Fabrication Drawing
< Read More > 
Civil & Structural : Design & Detailed Engineering :Design and Detailed Engineering, Structural Analysis, 3D Modelling, Equipment Support Structure Material Take Off, Walkway, Ladder and Platform Design, Foundation Drawings, Structural Fabrication Drawings, Steel Detailing.Preparation of, Detailed structural drawings, Setting out & frame work drawings, Reinforcement shop drawings, Optimized Bar bending schedules, Steel fabrication drawings, As-Built drawings, 3D Modelling of the entire structure, Produce and issue (Good for Construction) GFC drawings & documents, Site coordination / On-site presence for Rebar and structural co-ordination. < Read More > 
Electrical & Instrumentation : We understand Electrical & Instrumentation Design. Through our years of experience, we've developed expertise in the complex requirements of industrial processing facilities. Our skilled teams will work with you to design or improve your facility.< Read More > 
RLA & Life Extension : Residual Life Assessment (RLA) is a study to ensure safety and integrity of piping for the thermal/captive power plants to maintain its operating capacity for a longer period. PDE is deeply involved in RLA study of Boiler piping system in Thermal Power Station to improve plant availability factor and ensure better operations.< Read More > 
Value Engineering : Value Engineering is a function oriented, systematic team approach and study to provide value in a product or service. This improvement is focused on cost reduction and thereby value addition to the customer.PDE focuses on those value characteristics which are deemed most important from the customer point of view.We adopt a powerful methodolgy for solving problems and/or reducing costs while maintaining or improving performance and quality requirements.< Read More >